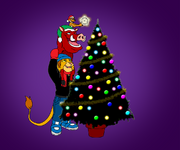 Benny, Leo and Johnny's Adventures of Christmas Stories
is an series of original written stories to be taken place around the Christmas season. It is released on November 30, 2011.
Plot
'Tis the season with the LionKingHeartFantasy Films crew and their friends as they prepare themselves for another joyous Christmas!
Chapters
Prologue
Dashing Thru the Stores
Whose Nativity Is It?
Johnny's Turkey Hunt
Rivalry on Ice
Christmas Cold
Heath's Christmas Carol
A LKHFF Christmas Story
Epilogue
Trivia
In Dashing Thru the Stores, the name "Meepon" is a parody on a real toy "Keepon". The snow leopardess from Teresa's Shopping Trip makes a cameo appearence.
Whose Nativity Is It? is a reference to the title of a show Whose Line Is It?. Aurora Rose speaks the same story which Linus has told from A Charlie Brown Christmas.
Rivalry on Ice shows Rae's and Sunlight's ice-skating talents.
The scene when Heath struggling to fully enter the team's studio in Christmas Cold are inspired by the trap scenes from Home Alone.
Hades makes a brief cameo appearence in Heath's Christmas Carol.
The Polar Express comes to life in An LKHFF Christmas Story.
Ad blocker interference detected!
Wikia is a free-to-use site that makes money from advertising. We have a modified experience for viewers using ad blockers

Wikia is not accessible if you've made further modifications. Remove the custom ad blocker rule(s) and the page will load as expected.