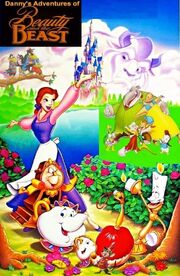 Danny's Adventures of Beauty and the Beast is the fifth crossover film created by CoolZDane. It appeared on YouTube in 8-10-2011.
Danny and his friends meet Belle and the Beast and try to help them break the spell by love.
The Berenstain Bears (Papa Bear, Mama Bear,Brother Bear, and Sister Bear), Darla Dimple,Raffish Ralph, Percival C. McLeach, and Joanna the Goanna are guest stars in this film.
Gaston has revealed to be Darla Dimple's Big cousin.
Raffish Ralph has revealed to be an old buddy of Darla Dimple.
That was Percival C. McLeach and Joanna the Goanna's First apperance because of Percival C. Mcleach had revealed to be Darla Dimple's Uncle.
Percival C. McLeach and Joanna the Goanna will get their revenge on Danny, Sawyer and the gang inDanny Joins the Rescuers Down Under.
This is the first "Danny's Adventures" movie that will feature Danny and Sawyer sharing a kiss on-screen.
This is in honor of the film's 20th anniversary.
Ad blocker interference detected!
Wikia is a free-to-use site that makes money from advertising. We have a modified experience for viewers using ad blockers

Wikia is not accessible if you've made further modifications. Remove the custom ad blocker rule(s) and the page will load as expected.