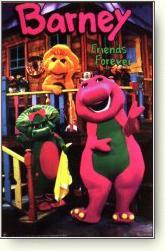 Friends Forever is a Barney Clip Show that was released on September 1, 1998. and the DVD releaseded in July 27, 2005.
When Carlos can't decide on what to paint for her art project, Baby Bop helps her decide. When the decision gets frustrating, Barney helps them come up with an idea to create a picture of something special to them.
Barney
B.J.
Baby Bop
Carlos
Min
Shawn
Jason
Stella the Storyteller
Mr. Boyd
Fiesta Songs (taken from: Birthday Ole)
The Baby Bop Hop (taken from: Barney's Big Surprise)
The Barney Bag (taken from: Playing it Safe)
The Popcorn Song (taken from: Day and Night)
Once Upon A Time (taken from: Once Upon A Time)
Everyone Is Special (taken from: Everyone Is Special)
I Love You (taken from: Barney In Concert) 
Barney Friends Forever PreviewsEdit
Dark Blue FBI Warning
Lyrick Studios Logo (1998-2001)
Please Stay Tuned Bumper (1995-1999)
Barney Home Video Intro
Barney Friends Forever Title Card
Barney Says Title Card
Closing Credits
Barney's Halloween Party Trailer
Barney's Adventure Bus Trailer
Barney Fun & Games Preview
The Barney NEW Clip Show Costume from "You Can Do It" is used in this video.
The NEW Clip Show version of Barney Live! In New York City is also used in the video.
Ad blocker interference detected!
Wikia is a free-to-use site that makes money from advertising. We have a modified experience for viewers using ad blockers

Wikia is not accessible if you've made further modifications. Remove the custom ad blocker rule(s) and the page will load as expected.