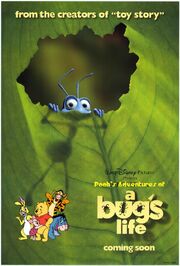 Pooh's Adventures of A Bug's Life
is the first and only Winnie the Pooh/Pixar movie by DisneyAnimeManiac. It appeared on YouTube on July 2009.
Plot
Winnie the Pooh and his friends have traveled to Ant Island where they meet an Ant named Flick and together with a band of Circus bugs, they helped protect Ant Island from an evil Grasshopper named Hopper.
Trivia
This is an NTSC film with NTSC bits from The Many Adventures of Winnie the Pooh, The Tigger Movie, Winnie the Pooh: A Very Merry Pooh Year, and Pooh's Heffalump Movie, and PAL bits from Pooh's Grand Adventure: The Search For Christopher Robin and Piglet's Big Movie.
Ad blocker interference detected!
Wikia is a free-to-use site that makes money from advertising. We have a modified experience for viewers using ad blockers

Wikia is not accessible if you've made further modifications. Remove the custom ad blocker rule(s) and the page will load as expected.