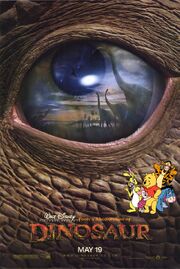 Pooh's Adventures of Dinosaur
is the ninth Winnie the Pooh crossover by DisneyAnimeManiac (not counting the remake version of
Pooh's Adventures of The Nightmare Before Christmas
). It premiered on YouTube in November 2009.
This is DisneyAnimeManiac's second and final crossover with computer-animated movie; the first being Pooh's Adventures of A Bug's Life.
This is a PAL film with PAL bits from Pooh's Grand Adventure: The Search for Christopher Robin and Piglet's Big Movie and NTSC bits fromThe Many Adventures of Winnie the Pooh, The Tigger Movie, and Pooh's Heffalump Movie.
Littlefoot and Cera (from Pooh's Adventures of The Land Before Time) are mentioned in this film and are revealed to be grandparents of Eema and Baylene. However, Pooh and his friends are time travelers, so they will see Littlefoot and his friends again in Pooh's Adventures of The Land Before Time II: The Great Valley Adventure.
Both The Tigger Movie and Dinosaur were released in 2000.
Both Winnie the Pooh and Dinosaur were made by Disney.
Ad blocker interference detected!
Wikia is a free-to-use site that makes money from advertising. We have a modified experience for viewers using ad blockers

Wikia is not accessible if you've made further modifications. Remove the custom ad blocker rule(s) and the page will load as expected.