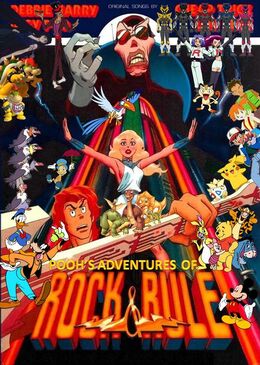 Pooh's Adventures of Rock and Rule is another upcoming new Winnie the Pooh crossover film created by DisneyDaniel93. It will appear on YouTube in the near future.
Trivia
Ash Ketchum, Pikachu, Misty, Togepi, Brock, Littlefoot, Cera, Ducky,Petrie, Spike, Mickey Mouse, Donald Duck, Goofy Walter The Penguin Mary May Andre Steve Harry Withney Thalice Toni Paula, and Billy Baker , The Bowser Family, the Psycho Rangers Team Rocket (James, Jessie, and Meowth)  And Dr Faciler will guest star in this film.
This film was originally going to be made by Yru17, until he decided to let Disneydaniel93 make this film instead.
Ad blocker interference detected!
Wikia is a free-to-use site that makes money from advertising. We have a modified experience for viewers using ad blockers

Wikia is not accessible if you've made further modifications. Remove the custom ad blocker rule(s) and the page will load as expected.