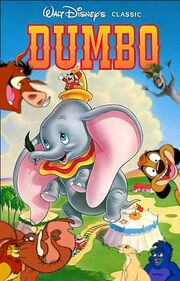 Simba, Timon, and Pumbaa's Adventures of Dumbo is another Lion King crossover film by LionKingRulezAgain1. It appeared on YouTube on 4-17-2010.
Plot
Simba and his friends have travel to the circus and board the circus train, Casey Jr. While onboard they realize that one of the elephants was expecting and met Dumbo, a young elephant with large, floppy ears. While the other elephants ridiculed him, Simba and the gang didn't laugh at him because they thought that they look good on him. Later, when his mother was imprisioned, they met Timothy Q. Mouse and they realized that he could use his large, flappy ears to take flight and he became the star of the circus and his mother was let out and they share a private coach at the rear of the train
Trivia
This is an NTSC film with NTSC bits from The Lion King movies, Tarzan and The Princess and the Frog and PAL bits from Madagascar and Madagascar: Escape 2 Africa.
Dumbo is another home video released in 1994, the same year The Lion King is released in theater
Dumbo is Blu Ray DVD released in 2011, the same year The Lion King is 3D released in theater
Ad blocker interference detected!
Wikia is a free-to-use site that makes money from advertising. We have a modified experience for viewers using ad blockers

Wikia is not accessible if you've made further modifications. Remove the custom ad blocker rule(s) and the page will load as expected.