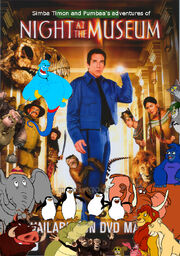 Simba, Timon, and Pumbaa's Adventures of Night at the Museum is upcoming another Lion King crossover film created by LionKingRulezAgain1. It will appear on YouTube in the near future.
The Penguins of Madagascar (Skipper, Kolwalski, Rico, and Private), Mason and Phil, Horton the Elephant, and Gobber the Belch will guest star in this film.
The storyline continues from Simba, Timon, and Pumbaa's Adventures of Night of the Museum 2: Battle of the Smithsonian.
Both Genie and Teddy Roosevelt are played by Robin Williams.
The teaser trailer for Dr. Seuss' Horton Hears A Who! had the same music from the opening of Night at the Museum. (By Alan Silvestri)
Both Night at The Museum And Horton Hears A Who Are Relased By Twentieth Century Fox Film Corporation.Inc
This is an NTSC film with NTSC bits from? The Lion King? movies,? Tarzan,The Princess And The Frog, the? Aladdin? movies,? The Little Mermaidmovies,? The Jungle Book,? TaleSpin: Plunder and Lightning,? Brother Bear? 1 and 2, and? Who Framed Roger Rabbit? and PAL bits from? Madagascar? andMadagascar: Escape 2 Africa.?? American Dragon: Jake Long
Ad blocker interference detected!
Wikia is a free-to-use site that makes money from advertising. We have a modified experience for viewers using ad blockers

Wikia is not accessible if you've made further modifications. Remove the custom ad blocker rule(s) and the page will load as expected.