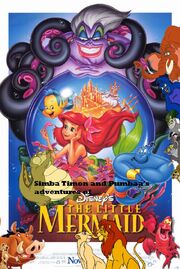 Simba, Timon, and Pumbaa's Adventures of The Little Mermaid is another all-new Lion King crossover film by LionKingRulezAgain1. It appeared on YouTube on 11-21-2010.
Plot
Simba and the gang go underwater and meet Ariel, a mermaid princess with a voice of an angel and help her learn about the human world to get the prince of her dreams.
Trivia
Mister Smarty Smarts and Octocat from the TV show Spliced! guest star in this film.
Like DisneyDaniel93's film Pooh's Adventures of The Little Mermaid, this is an NTSC film with NTSC bits from The Lion King movies, Tarzan, The Princess And The Frog, and the Aladdin movies and PAL bits fromMadagascar and Madagascar: Escape 2 Africa.
This film was originally going to be a PAL film (taken from a Disney Cinemagic HD airing in the UK), but LionKingRulezAgain1 decided to use the NTSC version of the film instead, especially for his current videos.
Sebastian will join Simba and his team at the end. He will be one of the smallest members in the Jungle Adventure Crew.
The Jungle Adventure Crew are able to breathe underwater due to Genie's magic making them impervious to drowning.
This is the last film to use the Simba, Timon, and Pumbaa's Adventures intro featuring only Simba, Nala, Timon, Pumbaa, Terk, Tantor, King Julien, Maurice, Mort, and Louis, as the next film after this will have the intro that features not only the same 10 characters, but also Genie and Sebastian.
Louis and Sebastian were friends' from music school.
This film features a flashback from the Disneyland version of Winnie The Pooh In Fantasmic! in which Timon and Pumbaa recalled the first time they faced Ursula and met Drake.
Both The Lion King and The Little Mermaid were made as broadway musicals.
Also known as Simba, Timon, and Pumbaa meet The Little Mermaid.
The storyline continues in Simba, Timon, and Pumbaa's Adventures of The Little Mermaid II: Return to the Sea.
Ad blocker interference detected!
Wikia is a free-to-use site that makes money from advertising. We have a modified experience for viewers using ad blockers

Wikia is not accessible if you've made further modifications. Remove the custom ad blocker rule(s) and the page will load as expected.