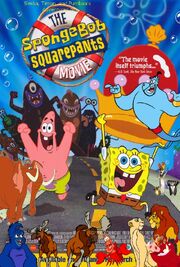 Simba, Timon, and Pumbaa's Adventures of The SpongeBob SquarePants Movie is the first Lion King/SpongeBob SquarePants crossover film by LionKingRulezAgain1. It will appear on YouTube in the near future.
Simba and his friends have traveled to Bikini Bottem and they joined SpongeBob and Patrick on a quest to find King Neptune's crown.
This is an NTSC film with NTSC bits from The Lion King movies, Tarzan,The Princess And The Frog, the Aladdin movies, The Little Mermaidmovies, The Jungle Book, TaleSpin: Plunder and Lightning, Brother Bear1 and 2, and Who Framed Roger Rabbit and PAL bits from Madagascarand Madagascar: Escape 2 Africa.? American Dragon: Jake Long
Simba, Nala, Timon, and Pumbaa first faced SpongeBob's arch nemesis Plankton before in SpongeBob's Adventures of The Goonies, Littlefoot's Adventures of Ghostbusters II, and The Land Before Time/Star Wars saga, and then Timon and Pumbaa faced him again in the Disneyland version of Winnie The Pooh In Fantasmic!.
Ad blocker interference detected!
Wikia is a free-to-use site that makes money from advertising. We have a modified experience for viewers using ad blockers

Wikia is not accessible if you've made further modifications. Remove the custom ad blocker rule(s) and the page will load as expected.