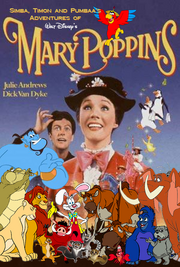 Simba, Timon, and Pumbaa Meets Mary Poppins
is another new upcoming Lion King crossover film by LionKingRulezAgain1. It will appear on YouTube in the near future.
Simba and the Jungle Adventure Crew (along with Iago the parrot) have traveled to London, England and met the woman with special talents named Mary Poppins who is taking the job as being a Nanny to the Banks kids who are called Jane and Micheal. Together, they turn London upside-down and teach the kids' father named George Banks how to get along with his kids.
Iago guest stars in this film.
This film was a request from Startanica.
Both The Lion King and Mary Poppins were made as broadway musicals.
Mary Poppins had another home video release in 1994, the same year that The Lion King was released in theaters.
Ad blocker interference detected!
Wikia is a free-to-use site that makes money from advertising. We have a modified experience for viewers using ad blockers

Wikia is not accessible if you've made further modifications. Remove the custom ad blocker rule(s) and the page will load as expected.