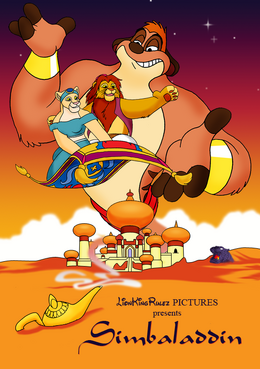 LionKingRulezAgain1's movie spoof of "Aladdin"
Cast
Aladdin - Simba

Jasmine - Nala
Jafar - Scar
Iago - Zazu
The Sultan - Mufasa
Abù - Uncle Max
The Genie - Timon
Rajah - Pumbaa
Razoul - Colonel Hathi
Magic Carpet - himself
Cave of Wonders - Himself
Gazeem the Thief - Banzai
The Peddler - Kaa
Prince Achmed - Alex
Old Jafar - Rafiki
Abu as an Elephant - Dumbo
Ladies Laughing at Aladdin - Kiara
Three Balcony Harem Girls - Lioness
Three Balcony Harem Girls' Mother - Sarabi
Necklace Man and Woman - Elephants from Tarzan and Gloria
Fat Ugly Lady - Ma
Two Hungry Children - Wolf Cubs
Omar; Melon Seller - Marty
Pot Seller - Horton (Horton Hears a Who (1970))
Nut Seller - King Julian
Necklace Seller - Maurice
Fish Seller - Rico
Fire Eater - Himself
Farouk; Apple Seller - Shere Khan
Camel Abu - Himself
Horse Abu - Himself
Duck Abu - Himself
Ostrich Abu - Himself
Turtle Abu - Himself
Car Abu - Himself
Old Man Genie - Alex the Lion
Little Boy Genie - Katie
Fat Man Genie - Mr. Krabs
75 Golden Camel - Camels in Parade from Dumbo
53 Purple Peacocks - Themselves
Exotic-Type Mammals - Manny
Leopard Genie - Baby Alex
Goat Genie - Sheep Genie
Bee Genie - Mantis
Submarine Genie - Himself
One of Flamingos - Himself
Snake Jafar - Himself
Genie Jafar - Himself
Ad blocker interference detected!
Wikia is a free-to-use site that makes money from advertising. We have a modified experience for viewers using ad blockers

Wikia is not accessible if you've made further modifications. Remove the custom ad blocker rule(s) and the page will load as expected.