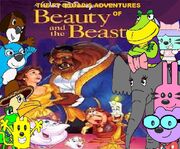 The FT Squad's Adventures of Beauty and the Beast is the ninth episode in "The FT Squad's Adventures" series. It is unknown if this movie will appear on YouTube, but it seems likely that in the future, a written version will be posted on Deviant Art.
Wubbzy, Daizy, Widget and Walden join the FT Squad as allies after this adventure.
Maguo returns as a guest star villain and he will be working with Gaston.
Ad blocker interference detected!
Wikia is a free-to-use site that makes money from advertising. We have a modified experience for viewers using ad blockers

Wikia is not accessible if you've made further modifications. Remove the custom ad blocker rule(s) and the page will load as expected.