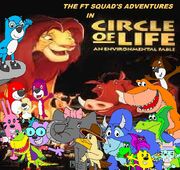 The FT Squad's Adventures in Circle of Life is an Earth day movie special in "The FT Squad's Adventures" series. A Deviant Art version will appear in the future. This special is dedicated to Earth Day and everyone who takes great care of the environment.
Simba and the FT Squad tell Timon, Pumbaa, Peanut, Butter, Jelly, Wubbzy, Daizy, Widget, Walden, Rex, Elsa, Dweeb, and Woog about the importance of the planet Earth's circle of life and how important it is for people to protect the land.
PB&J Otter, Wubbzy, Daizy, Widget, Walden, Rex Elsa, Dweeb and Woog are guest starring in this special.
Ad blocker interference detected!
Wikia is a free-to-use site that makes money from advertising. We have a modified experience for viewers using ad blockers

Wikia is not accessible if you've made further modifications. Remove the custom ad blocker rule(s) and the page will load as expected.