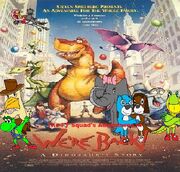 The FT Squad's Adventures in We're Back! A Dinosaur's Story is the second movie installment in
The FT Squad's Adventures Series
. It is unknown if it will appear on YouTube, but there's a version of the story already on Deviant Art.
The FT Squad, after succeeding in their mission at Pride Rock, travels to New York City to help four Brain Grain fed dinosaurs reach the Museum of Natural History to grant children's wishes of seeing real dinosaurs. Along the way, the meet two children named Louie and Cecila but also three enemies, Professor Screweyes, Lord Roark Stork and Ember Otter, who are running their own scary circus.
"We're Back! A Dinosaur's Story" is kylgrv's second favorite movie, after "The Lion King."
This is the debut of Lord Roark Stork, one of kylgrv's original characters, and Ember Otter, one of wrightgirl11's original characters, who closely ressembles Ember from the Nickelodeon show "Danny Phantom."
Kyle and Kristen's relationship is strengthened in this movie.
Ad blocker interference detected!
Wikia is a free-to-use site that makes money from advertising. We have a modified experience for viewers using ad blockers

Wikia is not accessible if you've made further modifications. Remove the custom ad blocker rule(s) and the page will load as expected.