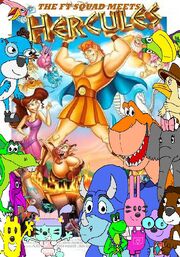 The FT Squad Meets Hercules is the ninth episode in The FT Squad's Adventures Series. It is unknown if this story will appear on YouTube in the future.
In this movie, the FT Squad travels to Ancient Greece where they must help Hercules, the son of Zeus and Hera, reclaim his godhood which was stolen by Hades, the ruler of the Underworld. Along the way, they reunite with Rex, Elsa, Dweeb and Woog, but also with Lord Roark Stork, who's working for Hades.
Trivia
Ad blocker interference detected!
Wikia is a free-to-use site that makes money from advertising. We have a modified experience for viewers using ad blockers

Wikia is not accessible if you've made further modifications. Remove the custom ad blocker rule(s) and the page will load as expected.