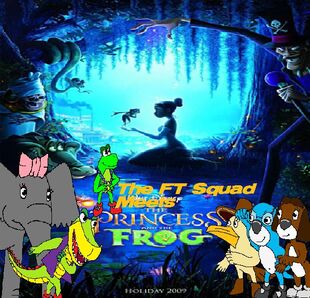 The FT Squad Meets The Princess and the Frog
is the sixth episode installment in
The FT Squad's Adventures Series
. It is unknown if the movie will appear on YouTube in the future.
The FT Squad travels to New Orleans where they meet an overworking restaurant worker, Tiana, who's on a mission to get her own restaurant. While she shows dislike towards Hopper due to her dislike of frogs, she ends up helping Prince Naveen, who was turned into a frog by Dr. Facilier. Now together, they must travel across the New Orleans swamps to reach Momma Odie in an attempt to turn Tiana and Naveen back into humans. Along the way, they meet Louis the alligator and Ray the Firefly.
Ad blocker interference detected!
Wikia is a free-to-use site that makes money from advertising. We have a modified experience for viewers using ad blockers

Wikia is not accessible if you've made further modifications. Remove the custom ad blocker rule(s) and the page will load as expected.