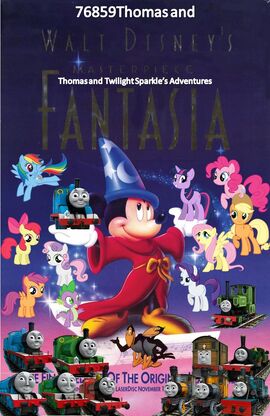 Thomas and Twilight Sparkle's Adventures of Fantasia
is a Thomas/MLPFIM/Disney Crossover film creating by 76859Thomas. It's will appear on Vimeo in the near Future.
Thomas, Twilight Sparkle and all their friends, will enjoy A great spectacle of magic and illusions, along with the music of greatest composers of history, from bach to schubert, in this adventure in eight greatest acts. Fantasia opens with live action scenes of members of an orchestra gathering and tuning their instruments. Master of ceremonies Deems Taylor enters the stage and introduces the program.
Diesel 10, Devious Diesel, Discord, Queen Cherysalis and King Somber are guest starring in this film and be with Chernabog in Night on Bald Mountain.
This film replace Thomas and Twilight Sparkle's Adventures of the Little Mermaid: Ariel's Beginning which was cancelled moving onto Thomas and Twilight Sparkle's Adventures of The Little Mermaid.
Ad blocker interference detected!
Wikia is a free-to-use site that makes money from advertising. We have a modified experience for viewers using ad blockers

Wikia is not accessible if you've made further modifications. Remove the custom ad blocker rule(s) and the page will load as expected.