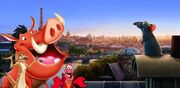 Timon and Pumbaa's Adventures of Ratatouille
is another upcoming Lion King crossover film planned to be made by LionKingRulezAgain1. It is unkown when the film will be shown on YouTube.
Trivia
This is another film that does not feature the full Jungle Adventure Crewdue to this film's main characters being rats, and Timon, Pumbaa, and Sebastian are the shortest of all the crew members, aside from the Lemurs.
Ad blocker interference detected!
Wikia is a free-to-use site that makes money from advertising. We have a modified experience for viewers using ad blockers

Wikia is not accessible if you've made further modifications. Remove the custom ad blocker rule(s) and the page will load as expected.