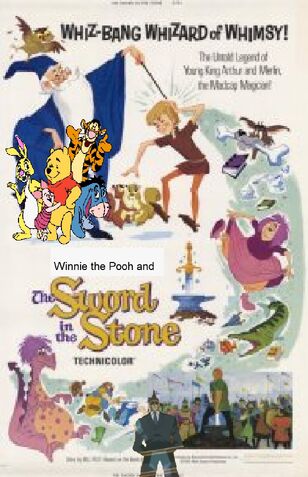 Winnie the Pooh and The Sword in the Stone
is the 2nd motion picture by KitaroShinX. It appeared on YouTube 9-30-2009.
Winnie the Pooh and his friends met Merlin the Wizard, Achimedes the Owl (who is Owl's cousin), and a boy named Arthur for the first time. Throughout this Adventure, they hung out with the three and watched Merlin teaching Arthur what it's like being a Fish, a Squirrel, and a Bird. They soon discoverd the Sword in the Stone. When Arthur pulled the Sword out of the Stone, he quickly became King of England.
Genie from "Aladdin" makes a cameo at the end of the film.
The Winnie the Pooh Featurette, Winnie the Pooh and A Day For Eeyore was released in theaters with the 1983 re-release of The Sword in the Stone in 1983.
Ad blocker interference detected!
Wikia is a free-to-use site that makes money from advertising. We have a modified experience for viewers using ad blockers

Wikia is not accessible if you've made further modifications. Remove the custom ad blocker rule(s) and the page will load as expected.