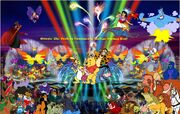 Winnie the Pooh in Fantasmic (Tokyo Disney Sea)
is another all-new upcoming movie by LionKingRulezAgain1. It will appear on YouTube in the near future.
The magic, illusions, and the adventure of Fantasmic returns when Winnie the Pooh, Simba, Alex, Aladdin, SpongeBob, and their old and new friends reunite once again with Mickey Mouse to celebrate the debut of the all-new Fantasmic adventure at Tokyo Disneyland's Tokyo Disney Sea park in Tokyo, Japan. But when the devious Heath Lynx from the Benny, Leo and Johnny's Adventures series team up with all the villains from our heroes' past (who were sent by the evil Bowser Koopa), the nightmare is back. Now it's up to Pooh and the others to stand tall against evil once again, restore the imagination, and stop Heath Lynx and the villains plots using the elements of water, light, and fire.
Simba, Timon, Pumbaa, Terk, Tantor, Alex, Marty, Melman, Gloria, Louis, Aladdin, Abu, Iago, Genie, Carpet, Baloo, King Louie, Roger Rabbit, SpongeBob Squarepants, Patrick Star, Brer Rabbit, Flynn Rider,Maximus, Scar, Shenzi, Banzai, Ed, Arthur and Cecil, Dr. Facilier, Brer Fox, Brer Bear, Don Karnage, Fat Cat, Professor Ratigan, Prince John, Heath Lynx, Jafar, Hades, and Captain Hook will guest star in this film.
This film is dedicated to DisneyDaniel93 and BowserMovies1989's classic versions of Winnie The Pooh In Fantasmic!.
The reason SpongeBob and Patrick are guest starring in this, is because they previously guest starred in Disneydaniel93's Disneyland version and BowserMovies1989's Walt Disney World version of Winnie The Pooh In Fantasmic!.
As of right now, the only members of the Jungle Adventure Crew guest starring in this will be Simba, Timon, Pumbaa, Terk, Tantor, Louis, Genie, King Louie, and Roger Rabbit.
This movie takes place after Winnie the Pooh Gets Tangled and Simba, Timon, and Pumbaa's Adventures of Tangled.
This is the first Winnie the Pooh crossover that Ratigan guest stars without his henchman Fidget.
Despite that Simba, Pumbaa, Aladdin, Carpet, Abu, Genie, Baloo, and King Louie appeared in the real show, they are still going to make their own adventure in this film.
The reason why Jafar is guest starring in this, is because Maleficent appeared in the real show, and that she and Jafar are a villain couple in every Pooh's Adventures film and TV show they guest star in.
This is the first Winnie the Pooh crossover to guest star Heath Lynx.
Ad blocker interference detected!
Wikia is a free-to-use site that makes money from advertising. We have a modified experience for viewers using ad blockers

Wikia is not accessible if you've made further modifications. Remove the custom ad blocker rule(s) and the page will load as expected.